Great Choice By LSU!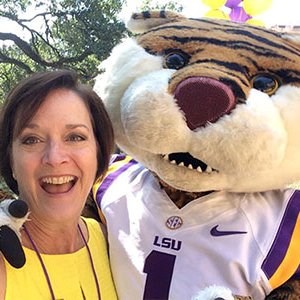 MIKE THE TIGER AND DR. STACIA HAYNIE
Stacia Haynie was selected on December 21 to serve as Vice President and Provost at LSU. We are thrilled by this selection. A healthy organization requires innovative thinkers who take the time to understand the history of the what has worked and failed in order to build a bright future. Stacia Haynie has been a leader for reform and tremendous progress at LSU for 30 years. She has worked with the Board of Supervisors and Board of Regents to lift our beloved LSU to true flagship status. LSU could not have made a better choice. We congratulate Dr. Stacia Haynie and LSU.
Dr. Haynie will be the Chief Academic Affairs Officer for the LSU Board of Supervisors for the entire LSU System. At the Baton Rouge campus she will be the Chief Operating Officer and act as Chief Administrative Officer in the absence of the System President. In this role she will oversee all instruction, student support, enrollment management, and research.
Richard Lipsey
Put Louisiana First