I Prayed For John Bel Edwards And Donald Trump Today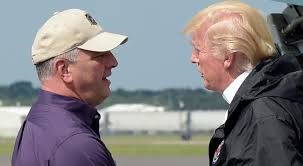 Guest Column:
Prior to worship this morning our family included Governor John Bel Edwards and President Trump in our prayers. Like yours, our family was shocked at this week's action in the New York legislature.
Donald Trump is new to the defense of our values. However, his administration's appointments and actions in that regard have been much stronger than the Reagan administration or either Bush administration.
John Bel Edwards' defense of our values has been lifelong, and is essential to his faith. We thank God for that.
Thanks to Governor Edwards, Louisiana is not New York. Dan Fagan points this out well in the Advocate: Pro-Life John Bel Edwards
Please thank Governor Edwards and President Trump for supporting our values with an email today:
John Mathis
John Mathis has directed successful efforts on behalf of conservative candidates across America. Recent victories include Marsha Blackburn and Dan Crenshaw where they were outspent 40 to 1 in the primary. In government, he reduced unlocated property by 90 percent as LADOTD Property Manager. In private industry, he directed the largest EPA sponsored remediation effort after Katrina.