President Trump - "John Bel Edwards and I have a great relationship. Even though he is a Democrat, John Bel is doing a great job!"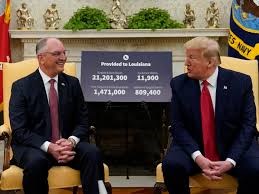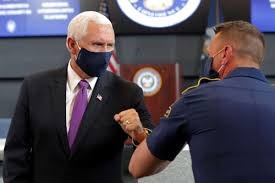 Republican Texas Governor Greg Abbott and Louisiana Governor John Bel Edwards have both followed Trump White House guidance and mandated closure of bars and mask wearing in necessary settings.
Nobody likes wearing a mask and nobody likes closing bars especially Governor Edwards and Governor Abbott, but since the reclosure of bars and the mask mandate July 13 a sharp downturn in the seven day average for new Covid-19 cases has occurred. The region that incorporates most of the Baton Rouge area has seen a 24% drop since the mask order and bar closures! This clear correlation is undeniable.
Unfortunately the same old lame "Republican" in name only officials who have failed to stand with President Trump time and time again are trying to revoke the current Emergency Declaration that has allowed Vice President Pence to come down and initiate the highly successful Louisiana hot spot testing initiative and Team Trump to get Louisiana the funding we need. This is not a partisan issue. It's a great thing that our White House and governor are Putting Louisiana First.
Comment on our Facebook link: Share Your Comment On Facebook